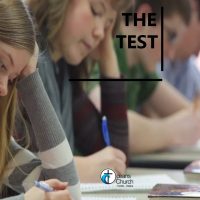 A Life of Stewardship- The Test (10/21/2018)
November 2, 2018
Stewardship is always followed by a TEST!
Opening Scripture:
Matthew 25:14-30 – the Parable of the 3 Servants or The Parable of the Talents
Talent here is a measure of weight in silver (1 talent= $1000)
Parable is not about salvation but our earthly calling, our assignment in this season of life.
1st TEST: Different Capacities-Same Opportunity
And to one he gave five talents ($5000), to another two ($2000), and to another one ($1000), TO EACH ACCORDING TO HIS OWN ABILITY (CAPACITY); and immediately he went on a journey. (Vv 15)
Test 1: Do you believe God has given you the same opportunity to succeed whether you have $1000, $2000 or $5000?
Ability : Capacity to handle an assignment
Talents: Resources that belong to God given to us to complete the assignment
We all have different capacity and the resources are dependent upon that capacity
What's equal with everyone else is:  THE OPPORTUNITY TO SUCCEED
2nd Test: Faithfulness
Then he who had received the five talents ($5000) WENT AND TRADED WITH THEM, and made another five talents. And likewise he who had received two ($2000) (WENT RIGHT TO WORK) gained two more also. But he who had received one ($1000) went and dug in the ground, and hid his lord's money (HE HID THE MONEY FOR SAFEKEEPING) (vv 16-18)
Test 2: How faithful are you with what you've been given?
The AMOUNTS were DIFFERENT, but the EXPECTATION to multiply was exactly the SAME
"Do business (Occupy) until I come" (Luke 19:13)
3rd TEST: Perception of God
"Then he who had received the one talent came and said, 'LORD, I KNEW YOU TO BE A HARD MAN, reaping where you have not sown, and gathering where you have not scattered seed. And I WAS AFRAID, and went and HID YOUR TALENT in the ground. Look, THERE YOU HAVE WHAT IS YOURS.' (vv24-25)
Test: How do you see God: A loving Father or Hard Master
The Moral of the Parable: Our Stewardship of what God has given to us: Time, talents, family, children, career, finances, health, etc will always be tested. Without HEART we cannot pass the TEST of Stewardship
Conclusion
What is the Holy Spirit saying to you through this message?