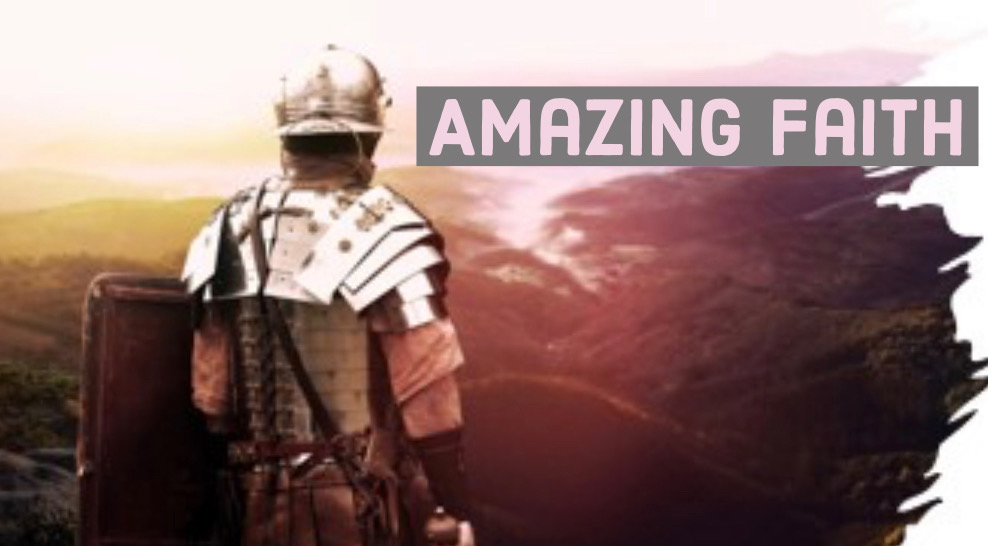 Amazing Faith (11/01/2020)
November 6, 2020
The Lord directs the steps of the Godly. He delights in every detail of their lives. Though they stumble, they will never fall, for the Lord holds them by the hand. (Psalm 37:23-24 NLT)
Two occasions where Jesus marveled about faith.  One at the unbelief of His own people and the other – was about a man whom Jesus said He had not heard such great faith in all of Israel.  Two different versions, Matt 8 and Luke 7.  "
"When Jesus had finished saying all this to the people who were listening, he entered Capernaum. 2 There a centurion's servant, whom his master valued highly, was sick and about to die. 3 The centurion heard of Jesus and sent some elders of the Jews to him, asking him to come and heal his servant. 4 When they came to Jesus, they pleaded earnestly with him, "This man deserves to have you do this, 5 because he loves our nation and has built our synagogue." 6 So Jesus went with them.  He was not far from the house when the centurion sent friends to say to him: "Lord, don't trouble yourself, for I do not deserve to have you come under my roof. 7 That is why I did not even consider myself worthy to come to you. But say the word, and my servant will be healed. 8 For I myself am a man under authority, with soldiers under me. I tell this one, 'Go,' and he goes; and that one, 'Come,' and he comes. I say to my servant, 'Do this,' and he does it." (Luke 7:1-8)
9 When Jesus heard this, he was amazed at him, and turning to the crowd following him, he said, "I tell you, I have not found such great faith even in Israel." 10 Then the men who had been sent returned to the house and found the servant well." (Luke 7:9:10)
Backstory of Roman conquest of Israel

Conquest in 63 BC General Pompey
Pax Romana
Peace with a price

Backstory of the role of centurions in the Roman army:

Training, discipline, warfare,
Commanded 80-100 soldiers
Politics, intrigue
Polytheistic

Capernaum: Jesus chose several apostles; stayed in Peter's house; garrison town; preached more sermons and performed more miracles than any other area
Relationship with the elders – customs about gentiles
Unlikely character, don't know his name, belief system and background.  Battles fought, victories and losses, challenges – everything he stood for was opposite of Jesus; all that led to that moment when he encountered Christ.
Gentile , spoke different language
Faith, humility, compassion; he knew how to submit to authority; not weakness
No terms or conditions; didn't exert authority/demand or rely upon his rank or accomplishments
Healing was always available but on God's terms, not Centurions
2000 years to become familiar with Christ.  In this case, He had yet to shed His blood.  Known as a prophet and healer.  None of the understanding we have today of Christ.  Understood that Jesus's healing powers came from a higher authority and he submitted to that authority
Verse 9:  What made this such amazing faith?
Authority:  He was a commander of invading, conquering force, in full authority over the residents of Capernaum.  He was not a follower of Christ.  He was a Gentile and a believer in many gods.  He had a fully developed belief system and a lifetime of experiences on the battlefield. He was a man in authority who would not want to submit to a member of a conquered nation.
Humility:  Submitted to the authority of Christ –.  Perhaps he had tried and exhausted every medical solution and prayer to his gods without success.  He was desperate and needed a miracle to save his servant, so he chose submit and believe in Christ's ability to heal.
Compassion: Willingness to set aside all that defined him for the sake of another in order to receive healing
Transition:  Active Faith versus Passive Faith
Faith in action:  Faith doesn't exist without some outward action to make it complete.  You must put your faith in someone or something and then act upon that belief.  Faith is strengthened by developing a relationship, experience and track record with the object of our faith.
** Hebrews 11:1. What is faith? It is the confident assurance that something we want is going to happen. It is the certainty that what we hope for is waiting for us, even though we cannot see it up ahead. (The Living Bible)
How do we get faith?  Romans 10:17 makes it clear
**Romans 10:17   So faith comes from hearing, that is, hearing the Good News about Christ. (NIV)
One can come to faith only through hearing the gospel and that message is the Good News about Jesus Christ who was crucified for our sins and rose again on the third day as our risen Savior.
Faith is intangible.  We can't touch it, can't see it – yet it is our connecting link to Almighty God.  It defines our relationship with him and we can have confidence in Him because He is unchangeable, His word is true, He cannot fail.
There are times when we activate our faith and others when we are content for any number of reasons to be more passive about our relationship with God.  it is through hearing the Word and understanding that faith is a gift and that salvation is God's grace poured out on us through the Holy Spirit.
Faith is stepping out and trusting in God's will and not our own.
22 "Have faith in God," Jesus answered. 23 "Truly I tell you, if anyone says to this mountain, 'Go, throw yourself into the sea,' and does not doubt in their heart but believes that what they say will happen, it will be done for them. 24 Therefore I tell you, whatever you ask for in prayer, believe that you have received it, and it will be yours. (Mark 11:22-24)
The reference to faith in this passage is "faith in God".  Not faith in general or faith in ourselves, other people, our money, our accomplishments, our relationships.  The reference to the mountain is create a picture, to illustrate the unlimited power of God when working through people who believe and do not doubt.   More simply, we can accomplish amazing things, overcome great difficulties by faith in God.  Perhaps the challenges we face seem like mountains that we cannot overcome, cannot climb or cross.  Active faith in God is our strength that allows us to confront these obstacles.
Passive faith accepts the word of God as truth but doesn't move on it.
Active faith begins to work and proves God's word to be true.
**14 What good is it, my brothers and sisters, if someone claims to have faith but has no deeds? Can such faith save them? 15 Suppose a brother or a sister is without clothes and daily food. 16 If one of you says to them, "Go in peace; keep warm and well fed," but does nothing about their physical needs, what good is it? 17 In the same way, faith by itself, if it is not accompanied by action, is dead. 18 But someone will say, "You have faith; I have deeds." Show me your faith without deeds, and I will show you my faith by my deeds. 19 You believe that there is one God. Good! Even the demons believe that—and shudder.   James 2:14-20
If you look back on events or circumstances in your life, have you realized that while you might be professing your faith, that you were left empty and unfulfilled?  You spoke the right words, talked the talk, but were not really walking out your faith.
More importantly, without a faith that is expectant of God, that doesn't rely upon God for your very existence, then you will never realize the plan that God has for you.  Also, a faith that is not active, something that is just a conversation but not supported by real action sets us up to be separated from God.
Faith, real faith, connects us to God.  Faith that is not activated can create an expectation that we are doing well with our Christian walk without really taking the step – that first step out of the boat that places us in a position of total reliance upon God.
Active faith will be apparent in how you live your life.  How you react to unforeseen circumstances.  Is your first response to pray or attempt to solve the situation yourself (I have done that on too many occasions).   Simply believing in God without taking the next step and trusting in Him will not allow you to fulfill the destiny He has for you.
Transition:  Shield of Faith
 If you believe in God, then you have to understand that there is a devil.
** "Be alert and of sober mind.  Your enemy the devil prowls around like a roaring lion looking for someone to devour". 1 Peter 5:8 NIV
 How do we withstand the attacks of the enemy?
* A final word: Be strong in the Lord and in his mighty power. 11 Put on all of God's armor so that you will be able to stand firm against all strategies of the devil. 12 For we[a] are not fighting against flesh-and-blood enemies, but against evil rulers and authorities of the unseen world, against mighty powers in this dark world, and against evil spirits in the heavenly places.
13 Therefore, put on every piece of God's armor so you will be able to resist the enemy in the time of evil. Then after the battle you will still be standing firm. 14 Stand your ground, putting on the belt of truth and the body armor of God's righteousness. 15 For shoes, put on the peace that comes from the Good News so that you will be fully prepared. 16 In addition to all of these, hold up the shield of faith to stop the fiery arrows of the devil. 17 Put on salvation as your helmet, and take the sword of the Spirit, which is the word of God. 18 Pray in the Spirit at all times and on every occasion. Stay alert and be persistent in your prayers for all believers everywhere.  (Ephesians 6:10-18)
The Shield of Faith is a vital piece of our defensive armor.  God wants to cultivate our faith – conversely Satan purposely attacks our faith.  The Shield of Faith is our best weapon to extinguish the fiery arrows of the enemy.
The Roman shield  was normally rectangular with curved sides to fit around the body and protect against projectiles.  For Christians, it is our unwavering faith in the integrity of God's character and the trustworthiness of His Word which protects us from the enemies flaming arrows, such as temptations, despair, nagging doubts, fear.
Flaming arrow #1: Separation from God
All of Satan's flaming arrows are intended to separate us from God by creating doubt about God's character and His Word.
His primary target is our relationship with God.  He looks for ways to slander and falsely accuse God, His Character, His Word and thereby convince us that He is untrustworthy.
Now the serpent was more crafty than any of the wild animals the Lord God had made. He said to the woman, "Did God really say, 'You must not eat from any tree in the garden'?"  NIV 3:1
This lie created a climate of uncertainty in Eve's mind which led to doubt and separation from God.  We probably won't be approached by a serpent, however, we will hear thoughts and impressions from people we know and trust, from the media, from family that can create doubt in our hearts and minds about God.
A delay in a response to prayers can create doubt in God's Word and intentions.  "When is God going to ……?", "Where was God when I needed Him?", "If you are a good God, why did you allow certain circumstances to happen?", "How can God allow suffering and evil?"
To defeat this flaming arrow, we must let our faith rest in God's character and accept that His ways are perfect.  He has a perfect plan for us.
Flaming Arrow #2: Tragedies and misfortunes.   Job was certainly an example of a person who was subjected to intense tragedy and personal misfortune.  Satan attempted to have Job curse and deny God.  Instead he praised Him.   Satan is the "accuser of the brethren", who accuses us day and night before God.   In fact, the more we draw closer to God, the more we can expect to be the target of the enemy's attacks.
Times of distress and tragedy are when our true character is revealed.  The loss of a loved one, loss of a job, home, sickness, broken relations
hips, financial distress – can all push us to ask "Why God?"
Faith in God's unchangeable, perfect character will shield our hearts from utter despair and protect our will from giving up and turning away from God.
Flaming Arrow #3:  Fear
Do not be terrified; do not be afraid. The Lord your God, who is going before you, will fight for you." Deuteronomy 1:29-30
31 "Simon, Simon, Satan has asked to sift all of you as wheat. 32 But I have prayed for you, Simon, that your faith may not fail. And when you have turned back, strengthen your brothers."  Luke 22:31-32
The enemy will always look for ways to intimidate us and paralyze us with fear and anxiety.  Anxiety in daylight often turns to fear in the dark of night as we listen to thoughts that direct us away from God.
It is so easy to fall into the trap of despair – fear of what could happen or what can go wrong.  It is times like this that we need discernment to understand what is happening around us
We are in a particularly unique time in history where the threat of confrontation has never been greater.  Fear of voicing our opinions, fear of standing up for our beliefs, anxiety over the unknowns of a pandemic – masks or no masks.  Fear over witnessing to others about Christ or expressing our beliefs when confronted with a "Cancel culture".
These fears grow as we take our eye and focus off of God.
You will keep in perfect peace all who trust in you, thoughts are fixed on you! Isaiah 26:3.
Fear and worry will thrive in an environment that does not include prayer, worship, fellowship with believers and a constant drive to seek God.
Here is a perspective about the Armor of God – there is no armor to protect our backs because we are not to retreat, but keep moving forward.  Overcoming the enemy by resisting – we have been given a spirit of power, lover and of self-discipline.
Three ways to extinguish the flaming arrows:
Exercise our faith: Through prayer, worship and purposefully developing a relationship with God.  Unwavering faith in God's character and trustworthiness.    We have to put on the full armor of God for it to be of any use in our daily lives.  Pick up the shield of faith – use "Situational Awareness" in aviation.  Knowing what is happening around you so you can anticipate how to respond – discernment gives us that understanding of what is going on so that we can lean into God rather than rely upon our own strength to get through difficult times.
Understand who we are in Christ and know that He jealously watches over us and loves us and cares for our circumstances – even the littlest things are important to Him.
Recognize that God is continually molding us and refining us and at times it can be painful and possibly confusing. We have to remain humble, and pliable and draw closer to Him when we struggle or are challenged rather than question His goodness. We need to be obedient.   We must believe that God is in control be willing to accept His direction for us.
SIMPLICITY OF THE CENTURION'S BELIEF MAKES IT CLEAR GOD'S GRACE AND MERCY IS ATTAINABLE FOR ALL OF US
true love of God. His love is stable and unaffected by political and contemporary adaptations. Pursuing that love is really meaningful. The centurion put aside political and cultural standards to pursue a connection with Christ
What we are currently observing as a social pastime is that we lean towards backbiting and judging others. Learning to lay off is a liberation from one of Satan's most devastating weapons. Relying on our faith in a true God brings compassion to the forefront – similar to the centurion
Sickness, loss, missing people, separation, etc. may feel incomprehensible, unnecessary and unfair. Being able to think that all that happens in my life – both good and bad, is for my own best is perhaps the most important knowledge the gospel has given me. If I really believe this, I only have good days.
The sickness of the Centurion's servant, created an opportunity to connect through faith with Christ and brought him to the knowledge of the power and love of the gospel.
How would you describe your faith?   For me it is a work in progress, through the grace of God.  There are good days and bad days – there are seasons that we go through, but throughout it all, our God is faithful, He is patient, loving, kind and He has a plan for us that is a good plan.