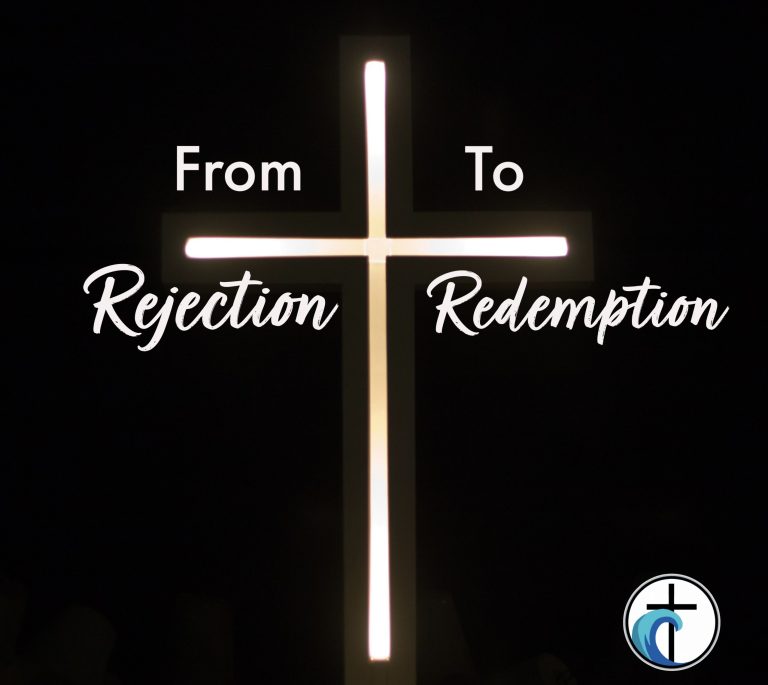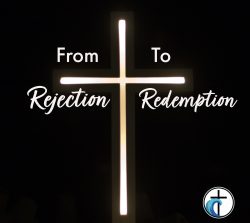 From Rejection to Redemption – Easter Sunday 2023
April 9, 2023
OPENING SCRIPTURE:
I will praise You, For You have answered me, And have become my salvation. The STONE which the builders REJECTED Has become the CHIEF CORNERSTONE. This was the Lord's doing; It is marvelous in our eyes. This is the day the Lord has made; We will rejoice and be glad in it. (Psalm 118:22-24 NKJ)
• The rejection of Christ was always part of God's plan. "This was the Lord's doing"
• We are told to rejoice and celebrate His rejection because His Rejection meant Our Redemption!
QUESTION: Have you ever experienced rejection by men?
• Maybe you were rejected because you told did not measure up.
• Maybe you were rejected because you were told you were too sinful, beyond redemption.
• Could it be that your rejection by men was "the Lord's doing" always part of His plan?
• Christ, without sin, and yet rejected by a group of pharisees who knew just enough to manipulate the law and build up a case against Him. His rejection was part of God's plan.
He came to His own, and His own did not receive Him (John 1:11 NKJ)
• Yet it was part of God's plan!
He was despised and rejected a man of sorrows, acquainted with deepest grief. We turned our backs on him and looked the other way. He was despised, and we did not care. (Isaiah 53:3 NLT)
• Yet it was part of God's plan!
Yet it was our weaknesses he carried; it was our sorrows that weighed him down. And we thought his troubles were a punishment from God, a punishment for his own sins! But he was pierced for our rebellion, crushed for our sins. He was beaten so we could be whole. He was whipped so we could be healed. 6 All of us, like sheep, have strayed away. We have left God's paths to follow our own. Yet the Lord laid on him the sins of us all. (Isaiah 53: 4-6 NLT)
• It was part of God's plan!
Why would God allow His one and only Son to go through so much rejection? Why would the Creator allow Himself to be rejected by His creation?
For God so loved the world that He gave His only begotten Son, that whoever believes in Him should not perish but have everlasting life. For God did not send His Son into the world to condemn the world, but that the world through Him might be saved. (John 3:16-17 NKJ)
• His rejection had a purpose: Redemption.
• Redemption: God's promise to deliver us from the power and the presence of sin. Past Sins. Present Sins. Future Sins.
• Redemption: God's promise that we will have eternal life.
The message of the cross is simple: It bridges the gap between rejection and redemption.
• God rejects sin because sin separates you from God.
• God rejects sin but He embraces the sinner because He paid the price for the redemption of that sinner.
for all have sinned and fall short of the glory of God, being justified freely by His grace through the redemption that is in Christ Jesus (Romans 3:23-24 NKJ)
• God made a way for us to be justified and redeemed by His amazing grace and His unconditional love.
The message of the cross is simple: It bridges the gap between our humanity and God's redeeming love.
There is therefore now no condemnation to those who are in Christ Jesus, who do not walk according to the flesh, but according to the Spirit. (Romans 8:1 NKJ)
Apostle Peter talks about Rejection and Redemption.
Coming to Him as to a living stone, rejected indeed by men, but chosen by God and precious,
• You might have been rejected by men but you can still come to Him as a living stone because you are chosen by God and you are precious.
you also, as living stones, are being built up a spiritual house, a holy priesthood, to offer up spiritual sacrifices acceptable to God through Jesus Christ. (1 Peter 2:4-5)
• Because Christ is your cornerstone, your spiritual house is being build up as you remain in Him and He in you.
Therefore, to you who believe, He is precious… "The stone which the builders rejected has become the chief cornerstone" (1Peter 2:7)
CONCLUSION
What is the Holy Spirit saying to you through this message?