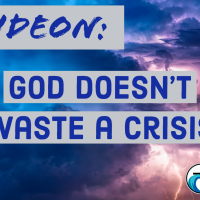 Gideon Part 2 (06/14/2020)
June 23, 2020
What is a crisis? A condition of instability or danger, as in social, economic, political, or international affairs. A crisis is also a decisive moment or a turning point that can bring hope!
OPENING SCRIPTURE: Judges 6:1-7
"The Israelites did evil in the Lord's sight. So the Lord handed them over to the Midianites for seven years. 2 The Midianites were so cruel that the Israelites made hiding places for themselves in the mountains, caves, and strongholds. 3 Whenever the Israelites planted their crops, marauders from Midian, Amalek, and the people of the east would attack Israel, 4 camping in the land and destroying crops as far away as Gaza. They left the Israelites with nothing to eat, taking all the sheep, goats, cattle, and donkeys. 5 These enemy hordes, coming with their livestock and tents, were as thick as locusts; they arrived on droves of camels too numerous to count. And they stayed until the land was stripped bare. 6 So Israel was reduced to starvation by the Midianites."
This Midianite crisis was on repeat mode for 7 years.
Who were the Midianites? The Midianites were the descendant of Midian, a son of Abraham and Keturah. It was a family crisis- relatives fighting with other relatives
But here's the good news: God does not waste a crisis!
11 Then the angel of the Lord came and sat beneath the great tree at Ophrah, which belonged to Joash of the clan of Abiezer. GIDEON SON OF JOASH WAS THRESHING WHEAT AT THE BOTTOM OF A WINEPRESS TO HIDE THE GRAIN FROM THE MIDIANITES. 12 The angel of the Lord appeared to him and said, "MIGHTY HERO, THE LORD IS WITH YOU!" (Judges 6:11-12 NLT)
A PLACE OF CRISIS IS NOT ALWAYS A WRONG PLACE
Sometimes it's in a place of crisis that God prepares you!
Gideon was threshing wheat in a winepress
You thresh wheat on a threshing floor and you crush grapes in a winepress
But even in the wrong place, in a low place, God found Gideon. I want you to know that God meets people in low places!
NO CRISIS IS POWERFUL ENOUGH OR LOW ENOUGH TO PLACE YOU OUT OF HIS REACH!
"Listen! The Lord's arm is not too weak to save you, nor is his ear too deaf to hear you call." (Isaiah 59:1)
If God can hear you and He can certainly reach you!
YOUR "WRONG" PLACE MIGHT BE THE RIGHT PLACE FOR GOD
A PLACE OF CRISIS REQUIRES FAITHFULNESS TO GOD
God finds Gideon faithfully doing his job- threshing wheat in a winepress
Consistency and faithfulness in doing the mundane are key to promotion
When you are faithful with little things, God will trust you with more (Luke 19:17)
God will always honor faithfulness- Why?
FAITHFULNESS TURNS YOUR HEART TO GOD!
 Work WILLINGLY (HEARTILY) at whatever you do, as though you were working for the Lord rather than for people. (Colossians 3:23 NLT)
God is more interested in changing your heart than he is in changing your circumstances
A PLACE OF CRISIS CAN BE WHERE GOD CALLS YOU
The angel of the Lord appeared to him and said, "MIGHTY HERO, THE LORD IS WITH YOU!" (Verse 12)
Now this does not make any sense. There's no record of Gideon ever involved in a battle, or even being a soldier. Yet God calls him a "Mighty hero or a Mighty Man of Valor"
God was calling Gideon by his destiny name: Mighty Man of Valor
GOD CAN USE YOUR CRISIS TO CALL YOU OUT BY YOUR DESTINY NAME!
Like Gideon, you might not feel like a hero, but God still calls you an overcomer.
God does not want you to pretend the crisis does not exist. But He wants you to remember who and whose you are in the middle of the crisis
Here's how God calls you – (1 Peter 2:9)
"For you are a CHOSEN PEOPLE. You are ROYAL PRIESTS, a HOLY NATION, GOD'S VERY OWN POSSESSION. As a result, you can show others the goodness of God, FOR HE CALLED YOU OUT OF THE DARKNESS INTO HIS WONDERFUL LIGHT."
CONCLUSION
GOD DOES NOT WASTE A CRISIS
NO CRISIS IS POWERFUL ENOUGH OR LOW ENOUGH TO PLACE YOU OUT OF HIS REACH!