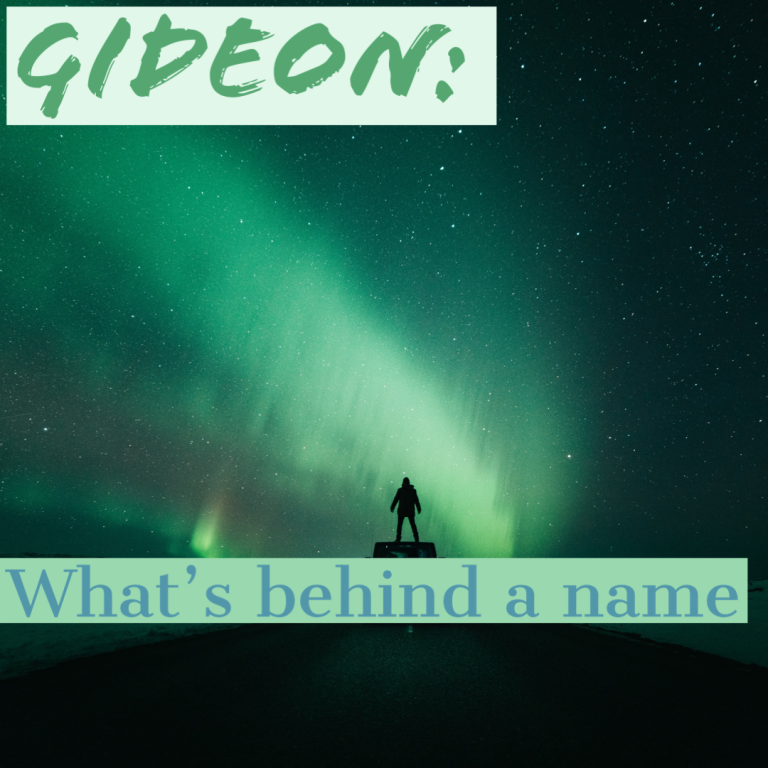 Gideon Part 3 (06/21/2020)
June 23, 2020
OPENING SCRIPTURE: The angel of the Lord appeared to him (Gideon) and said, "MIGHTY HERO, THE LORD IS WITH YOU!" (Judges 6:11 NLT)
We know Gideon as a hardworking farmer, as the son of Joash, and here we find God validating him by reminding him of what's behind his name- Gideon
Gideon means: Destroyer.
13 "Sir," Gideon replied, "if the Lord is with us, why has all this happened to us? And where are all the miracles our ancestors told us about? Didn't they say, 'The Lord brought us up out of Egypt'? But now the Lord has abandoned us and handed us over to the Midianites."
Gideon's generation has totally forgotten how God miraculously delivered them from slavery.
Gideon shifts the blame on God instead of the fact that they did evil things. Turned their backs on God and worshipped Baal (the God of the Midianites)
14 Then the Lord turned to him and said, "GO WITH THE STRENGTH YOU HAVE, AND RESCUE ISRAEL FROM THE MIDIANITES. I AM SENDING YOU!"
ON THAT DAY, GIDEON UNDERSTOOD THE REAL MEANING OF HIS NAME: DESTROYER
Later on in chapter 6, Gideon destroyed the temple of Baal and the people started to call him: Jerubbaal– BAAL DESTROYER.
Before Gideon could ever fulfill his destiny as a Judge, as a Mighty Man of Valor, he had to first find the value of his name.
Before he was ready to lead an army, the temple of Baal had to come down!
Before there was a Mighty Man of Valor, there had to be a Baal Destroyer
BEHIND GIDEON'S NAME WAS A MIGHTY GOD!
The story of Gideon is more than just the battle with an army of 300 men. It's also a story about God restoring the identity of a man.
BEHIND YOUR NAME, YOU DISCOVER THE REAL YOU
I'm not talking about your natural name that's on your birth certificate. But your destiny name that your Heavenly Father has written on your hearts.
Your destiny name reflects His identity, His Power, His Authority.
1 Peter 2:9- " CHOSEN, ROYAL PRIEST, GOD'S POSSESSION"
1 John 4:4 – "OVERCOMER"
John 15:15 – "FRIEND OF GOD"
Ephesians 2:10 – "MASTERPIECE"
Deuteronomy 7:6 – "TREASURE"
2 Corinthians 6:18 – "SONS AND DAUGHTERS"
Song of Solomon 2:16 – "BELOVED"
IN ORDER TO DISCOVER THE REAL YOU, YOU MUST GET RID OF THE OLD YOU
My OLD SELF has been CRUCIFIED WITH CHRIST. It is no longer I who live, but Christ lives in me. (Galatians 2:20 NLT)
GOD DOES NOT WANT YOU TO LIVE YOUR LIFE IN THE SKIN OF THE "OLD YOU"
MAKE ROOM YOUR DESTINY NAME
"DRAW NEAR TO GOD and He will draw near to you." (James 4:8 NLKJ)
When you draw near…Here's what He does:
26 And I will give you A NEW HEART, and I will put A NEW SPIRIT in you. I will take out your stony, stubborn heart and give you a tender, responsive heart (Ezekiel 36:26 NLT)
God gives you a new heart, a new spirit, a new identity!
You no longer go by the old names you used to call yourself or someone used to call you? useless, worthless, dumb, stupid? Or carry a title: abused, victim.
YOU ARE NOW GOD'S PROPERTY- NEW HEART- NEW SPIRIT- NEW IDENTITY
TRANSITION: Making room for God's destiny take time- but it's worth it!
I believe we should all carry signs that read this: "WORK IN PROGRESS" SIGNED GOD
HERE'S THE TRUTH: AS LONG AS YOU'RE BREATHING GOD'S NOT DONE!
Phil 1:6 says that God is at work in works to get rid of the old self. Here's another reason why Gideon had to destroy Baal first: GOD WILL NOT SHARE HIS THRONE WITH ANOTHER ONE ELSE.
The throne of your hearts can only be occupied by one master: You, the devil or God
The Baal temples of our lives have to come down: the old places we used to hang out, old toxic relationships, old habits.
CONCLUSION
Do you know what God calls you? Are you living by those names?