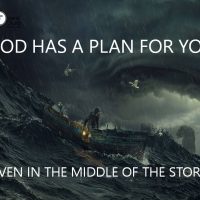 God Has A Plan For You – Even in the middle of a storm (01/27/2019)
January 26, 2019
God has a plan for you, even in the middle of a storm
Many of us have just come through a storm – if this doesn't describe you, it will at some point in the future.
Opening Scripture:
Jeremiah 29:11 – "For I know the plans I have for you," declares the Lord, "plans to prosper you and not to harm you, plans to give you hope and a future."
How do we face storms – are we prepared. For the most part, storms are unexpected and beyond our control. We have no chance to prepare.  We are often out of control. We attempt to solve problems in our own strength
The storms in life – financial, relationships, health, family challenges, jobs, relocation away from family.  Some storms are the result of our own actions
Are we alone in the storm or at what point do we cry out for help?
Jesus calms the storm: Mark 4:35-40
Our storms are no surprise to Christ
Jesus walks on water: John 6:16-21 – The disciples were exactly where they were supposed to be.  Christ told them to go on ahead and they still were hit by a fierce storm
What do we know about storms?
Christ will come to us in the middle of our storms.
He knows the plans He has for us.
He will walk through water, through the middle of the storm.
Jesus will speak to us in the storm.
If we seek Him, if we place our faith in Him then we hear His voice more clearly.
He will speak to us in the storm, just as He did with the disciples.  "Be not afraid" has real meaning when it is seated in Christ.  We have no strength outside of Christ
How do we prepare for the storms?  We must have Christ in our hearts before we enter the storm.  Examples:
1 John 4:9-10
Psalm 29:11
Colossians 3:15
Conclusion:
What is the Holy Spirit saying to you through this message?
Even though the storms are still raging, if Christ is our focus, then with His peace, which passes all understanding, we have a way through the storm.