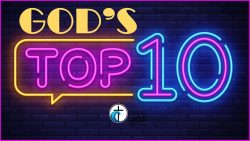 God's Top Ten – Part 10 (08/08/2021)
August 8, 2021
"You shall not covet your neighbor's house; you shall not covet your neighbor's wife, nor his male servant, nor his female servant, nor his ox, nor his donkey, nor anything that is your neighbor's." (Exodus 20:17 NKJ)
The word "Covet" means to lust after or to be consumed with desire for something that does not belong to you.
The world has accepted coveting as a way of life instead of sin that starts in the heart.
It is the only commandment that deals directly with the inner person, the heart.
These desires give birth to sinful actions. And when sin is allowed to grow, it gives birth to death. (James 1:15 NLT)
In other words, if you secretly feed those desires by lusting for something that does not belong to you, you will give birth to a monster.
Nothing wrong to desire a better job, a better car, a better house
And He said to them, "Take heed and beware of covetousness, for one's life does not consist in the abundance of the things he possesses." (Luke 12:15 NKJ)
God is not opposed to us having things. But what He does not want is: Things taking His place in our lives.
Whatever takes the place of God in our lives, becomes an idol.
Don't be greedy (Don't covet), for a greedy person is an idolater, worshiping the things of this world. (Colossians 3:5 NLT)
Covetousness will ultimately cause you to resent God.
#1 PRINCIPLE OF CONTENTMENT
The word contentment comes from the root word content which means happy or satisfied.
Contentment is the state of being content or satisfied. It is not just a feeling or an emotion but actually a spiritual place.
The 1st time it was mentioned was in Joshua 1:5 when God had a conversation with Joshua: "No man shall be able to stand before you all the days of your life; as I was with Moses, so I will be with you. I will not leave you nor forsake you (Joshua 1:5 NKJ)
Now here is what I believe God was telling Joshua:
Joshua, you don't need to covet the relationship that I had with Moses.
Joshua, you don't need to covet the position that Moses had with the people.
I believe somewhere in that conversation between God and Joshua there was a pause: "Joshua are you content with just being you?"
Because if you are content with just being you: "as I was with Moses, so will I be with you. I will not leave you nor forsake you"
The writer of the book of Hebrews used that same passage in Joshua and put it that way:
LET YOUR CONDUCT BE WITHOUT COVETOUSNESS; BE CONTENT WITH SUCH THINGS AS YOU HAVE. For He Himself has said, "I will never leave you nor forsake you." (Hebrews 13:5 NKJ)
When you get in that place of contentment:
You are comfortable in who we are
You are satisfied with all that God has provided
You know that we belong to Him
But above all, we know that He will never leave us nor forsake us.
#2 PRINCIPLE OF DELIGHT
Delight yourself also in the Lord, And He shall give you the desires of your heart. (Psalm 37:4 NKJ)
Many might have understood this verse like: Love and serve God and He will give you everything you desire. But that's not the intent of this scripture. God is not a genie in a bottle.
The word Delight here is critically dependent on one thing: authority.
Who is sitting on the throne of your life?
When God is in charge He will give you the right desires. The ones that line up with His will and His perfect timing.
CONCLUSION:
What is the Holy Spirit saying to you through this message?