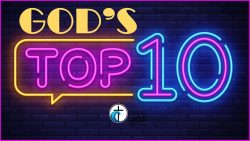 God's Top Ten – Part 9 (08/01/2021)
August 1, 2021
"You shall not bear false witness against your neighbor. (Exodus 20:16 NKJ)  
This commandment is very straight forward: Do not lie!
A lie can exist in other subtle forms under different names:

Broken Promises – When you don't keep your commitment to God and people.
Exaggeration – When you enhance the truth by adding to it.
Deception – When you cause someone to believe something that is not true.
Half Truth – When you only tell part of the truth. Half of a truth is a whole lie.
Technical Truth – When you find a technicality, so that you can say you did not lie.
Bold face lie – Where everyone knows is a lie. Sadly, if you say it often enough, people will believe it.
Why did God give us the 9th commandment?
#1 GOD HATES LIE
There are six things the Lord hates no, seven things he detests:
haughty eyes, A LYING TONGUE, hands that kill the innocent, a heart that plots evil, feet that race to do wrong, A FALSE WITNESS WHO POURS OUT LIES, a person who sows discord in a family. (Proverbs 6:16-19 NLT)
Seven things the Lord hates: pride, lying, murder, evil plots, those who love evil, false witnesses, and troublemakers.
God is not a man, so he does not lie. He is not human, so he does not change his mind. Has he ever spoken and failed to act? Has he ever promised and not carried it through? (Numbers 23:19 NLT)
Our confidence is in the fact that our God is not a liar and that He is faithful.
God calls him, the devil, The Father of lies. This is how Jesus refers to him in John 8:44
He was a murderer from the beginning. He has always hated the truth, because there is no truth in him. When he lies, it is consistent with his character; for he is a liar and the father of lies. (John 8:44 NLT)
Why does God not want us believers to lie? Because when we lie, we misrepresent Him and we represent the character of the devil.
#2 LIES KEEP THE OLD MAN ALIVE
7 You used to do these things when your life was still part of this world. 8 But now is the time to get rid of anger, rage, malicious behavior, slander, and dirty language. 9 Don't lie to each other, for you have stripped off your old sinful nature and all its wicked deeds. 10 Put on your new nature, and be renewed as you learn to know your Creator and become like him. (Colossians 3:7-10 NLT)
When you, you feed that old man.
#3 LIES BRING HARM TO THE BODY OF CHRIST
We are part of the Body of Christ. Many parts but created in such a way that promotes unity.
He makes the whole body fit together perfectly. As each part does its own special work, it helps the other parts grow, so that the whole body is healthy and growing and full of love. (Ephesians 4:16)
The enemy's intent is to destroy that unity through lies.
throw off your old sinful nature and your former way of life, which is corrupted by lust and deception. Instead, let the Spirit renew your thoughts and attitudes. Put on your new nature, created to be like God—truly righteous and holy. SO STOP TELLING LIES. LET US TELL OUR NEIGHBORS THE TRUTH, FOR WE ARE ALL PARTS OF THE SAME BODY. (Ephesians 4:23-26 NLT)
For the protection of the body, we are instructed to tell the truth.
Truth must always be spoken in love! 1 Corinthians 13:6 says that love rejoices in truth.
The truth spoken in love promotes unity!
#4 TO POINT US TO JESUS – THE TRUTH
"I am the way, the truth, and the life." (John 14:6 NKJ)
If we want victory in this spiritual battle, we must take that standard, the truth into battle each and every time. The battle that we are engaged in is in reality a battle lies and truth.
10 A final word: Be strong in the Lord and in his mighty power. 11 Put on all of God's armor so that you will be able to stand firm against all strategies of the devil 12 For we are not fighting against flesh-and-blood enemies, but against evil rulers and authorities of the unseen world, against mighty powers in this dark world, and against evil spirits in the heavenly places.
13 Therefore, put on every piece of God's armor so you will be able to resist the enemy in the time of evil. Then after the battle you will still be standing firm. 14 Stand your ground, putting on THE BELT OF TRUTH and the body armor of God's righteousness.
The belt of Truth which all together your righteousness or your right standing in Him
Let's go to war with the truth, the whole truth and nothing but the truth
CONCLUSION:
What is the Holy Spirit saying to you through this message?