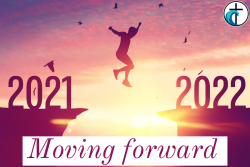 Moving Forward – Part 1 (01/02/2022)
January 2, 2022
OPENING SCRIPTURE:
For I KNOW the plans I have for you," says the Lord. "They are plans for good and not for disaster, to give you a future and a hope. (Jeremiah 29:11 NLT)
Would you move forward with God's plan?
Vision is knowing what God is saying and then moving forward with it.
God has called us to a place greater than where we are right now. But in order to get there, you have to move forward.
2 Samuel 5:1-10
Then all the tribes of Israel went to David at Hebron and told him, "We are your own flesh and blood.  In the past, when Saul was our king, you were the one who really led the forces of Israel. And the Lord told you, 'You will be the shepherd of my people Israel. You will be Israel's leader.'"  So there at Hebron, King David made a covenant before the Lord with all the elders of Israel. And they anointed him king of Israel. David was thirty years old when he began to reign, and he reigned forty years in all. (2 Samuel 5:1-4 NLT)
David was anointed as King by Prophet Samuel at the age of 17 but his coronation was not until he was 30. A divine delay that took 13 years.
Why does God allow those divine delays in our lives?
The answer is very simple really: Movement – Would you move forward with God's plan when we don't see the evidence of his plan. Movement with God: Preparation, Surrender, Submission.
David's anointing was not to wear the crown but to occupy the office the office of the King.
 He had reigned over Judah from Hebron for seven years and six months, and from Jerusalem he reigned over all Israel and Judah for thirty-three years. (2 Samuel 5: 5 NLT)
Judah was Southern Kingdom and although he was crowned as King of Israel, David did not reign over the entire kingdom. Jerusalem was occupied by the enemy, the Jebusites.
7 years after his coronation as King of Israel, God challenged David to conquer Jerusalem.
David then led his men to Jerusalem to fight against the Jebusites, the original inhabitants of the land who were living there. The Jebusites taunted David, saying, "You'll never get in here! Even the blind and lame could keep you out!" For the Jebusites thought they were safe. But David captured the fortress of Zion, which is now called the City of David. On the day of the attack, David said to his troops, "I hate those 'lame' and 'blind' Jebusites. Whoever attacks them should strike by going into the city through the water tunnel." That is the origin of the saying, "The blind and the lame may not enter the house."  So David made the fortress his home, and he called it the City of David. He extended the city, starting at the supporting terraces and working inward.  And David became more and more powerful, because the Lord God of Heaven's Armies was with him. David became more and more powerful, because the Lord God of Heaven's Armies was with him. (2 Samuel 5: 6-10 NLT)
Tools we can apply in our personal lives when it comes to moving forward with God's plan.
#1 MOVE FORWARD WITH GODLY VISION
To move forward with God's plan, your natural eyes need to be closed. However, your spiritual eyes need to be wide open.
We walk (MOVE) by FAITH, NOT BY SIGHT (living our lives in a manner CONSISTENT with our confident belief in God's promises) – (2 Corinthians 5:7 AMP)
How you respond will determine how you move forward.
#2 MOVE FORWARD WITH GODLY WISDOM
The enemy has a weakness and only God's wisdom can reveal it.
You might look at your own situation and see no way out. Just because you cannot see it does not mean that it is not there! KEEP ASKING GOD FOR HIS WISDOM!
If you need (GODLY)WISDOM, ask our generous God, and he will give it to you. He will not rebuke you for asking. (James 1:5)
How you respond will determine how you move forward.
#3 MOVE FORWARD WITH GODLY PRAISE
David praised his way out of trouble.
I will exalt you, my God and King, and PRAISE YOUR NAME FOREVER AND EVER.  I will PRAISE YOU EVERY DAY; yes, I will PRAISE YOU FOREVER. Great is the Lord! He is most worthy of praise! No one can measure his greatness. (Psalm 145:1-3)
How you praise will determine how you move forward.
CONCLUSION
What is the Holy Spirit saying to you through this message?