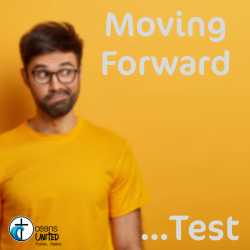 Moving Forward – Part 4 (01/23/2022)
January 23, 2022
OPENING SCRIPTURE:
For I KNOW the plans I have for you," says the Lord "They are plans for good and not for disaster, to give you a future and a hope. (Jeremiah 29:11 NLT)
If you know that God's plan is Good, would you know move forward with it?
Moving Forward comes with a series of tests: Test of your Faith, Test of your Perception, Test of your Expectation.
#1 MOVING FORWARD: A TEST OF YOUR FAITH
Now it came to pass after these things that God TESTED Abraham, and said to him, "Abraham!" And he said, "Here I am." (Genesis 22:1 NKJ)
Abraham's faith, his resolve to move forward has to be tested.
The vision, the plan, the purpose that God has given to you must be tested. Our faith must tested, our resolve must be tested, our determination must be tested.
knowing that the testing of your faith produces patience. 4 But let patience have its perfect work, that you may be perfect and complete, lacking nothing.  (James 1:3-4NKJ)
Fruits can only be produced when faith is tested.
Then He said, "Take now your son, your only son Isaac, whom you love, and go to the land of Moriah, and offer him there as a burnt offering on one of the mountains of which I shall tell you." (Genesis 22: 2 NKJ)
When God wants to teach you something about Himself, His name, His identity, His Character, His ability to provide, He will put you in a situation that does not make sense.
The word Moriah in Hebrew means God is my Teacher.
Can we be teachable along this journey?
#2 MOVING FORWARD: TEST OF PERCEPTION
Perception is the way you view the world around you that becomes your reality.
Without God, your perception of God and the world around you is altered by the enemy.
So Abraham rose early in the morning and saddled his donkey, and took two of his young men with him, and Isaac his son; and he split the wood for the burnt offering, and arose and went to the place of which God had told him. Then on the third day Abraham lifted his eyes and saw the place afar off. (Genesis 22:3-4 NKJ)
An early start does not leave room for the enemy to operate
And Abraham said to his young men, "Stay here with the donkey; the lad and I will go yonder and worship, and we will come back to you." (Genesis 22:5 NKJ)
Not everyone is meant to go the long way with you.
His perception was: Somehow my God will provide
# 3 MOVING FORWARD: TEST OF EXPECTANCY
"Look, the fire and the wood, but where is the lamb for a burnt offering?" And Abraham said, "My son, GOD WILL PROVIDE FOR HIMSELF the lamb for a burnt offering." So the two of them went together. (Genesis 22:7-8 NKJ)
The expectancy to provide for the vision is never yours. Your expectancy is not provision but obedience.
Then Abraham lifted his eyes and looked, and there behind him was a ram caught in a thicket by its horns. So Abraham went and took the ram, and offered it up for a burnt offering instead of his son. And Abraham called the name of the place, THE-LORD-WILL-PROVIDE (JEHOVAH JIREH) (Genesis 22:13-14 NKJ)
Jehovah Jireh – The God that sees ahead and makes provision.
Jehovah Jireh – God saw our need for a building and made provision.
CONCLUSION
 What is the Holy Spirit saying to you through this message?