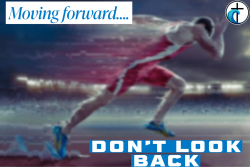 Moving Forward – Part 5 (01/30/2022)
January 30, 2022
I'm Moving Forward
"The tongue has the power of life and death, and those who love it will eat its fruit." (Proverbs 18:21 NIV)
Intro: Sodom and Gomorrah overview.
"As soon as they had brought them out, one of them said, "Flee for your lives! Don't look back, and don't stop anywhere in the plain! Flee to the mountains or you will be swept away!"" (Genesis 19:17 NIV)
"But Lot's wife looked back, and she became a pillar of salt." (Genesis 19:26 NIV)
Look forward
A.) Vision: In order to move forward, you must stop looking on what's behind you!
1.) If you keep Turning around focusing on your past (before christ), you will die! For the earth, and everything in it is passing away. Don't get caught lusting on your past, it will become a snare.
2.) If we are going to be Gods people, it time to move forward!
(Do you want my Jeremiah 29:11 for your life????)
"For I know the plans I have for you," declares the Lord, "plans to prosper you and not to harm you, plans to give you hope and a future." (Jeremiah 29:11 NIV)
B.) I'm moving Forward (Sick and tired).
1.) God is looking for some people in this place that are ready to move forward towards his plan, ready to move forward with him. No matter the cost!
2.) My prayer: God drive all the bad things out of my life not matter how bad they hurt, are you done yet!?  Whoever exalts himself will be humbled, and those that humble themselves will be exalted.
 II. Stuck to un-stuck…..(Stuck in on a pile of snow.Jeep).
Failure
1.) Peter Denied Jesus 3 times.
"Afterward Jesus appeared again to his disciples, by the Sea of Galilee. It happened this way: Simon Peter, Thomas (also known as Didymus), Nathanael from Cana in Galilee, the sons of Zebedee, and two other disciples were together. "I'm going out to fish," Simon Peter told them, and they said, "We'll go with you." So they went out and got into the boat, but that night they caught nothing. Early in the morning, Jesus stood on the shore, but the disciples did not realize that it was Jesus. He called out to them, "Friends, haven't you any fish?" "No," they answered. He said, "Throw your net on the right side of the boat and you will find some." When they did, they were unable to haul the net in because of the large number of fish. Then the disciple whom Jesus loved said to Peter, "It is the Lord!" As soon as Simon Peter heard him say, "It is the Lord," he wrapped his outer garment around him (for he had taken it off) and jumped into the water. The other disciples followed in the boat, towing the net full of fish, for they were not far from shore, about a hundred yards. When they landed, they saw a fire of burning coals there with fish on it, and some bread. Jesus said to them, "Bring some of the fish you have just caught." So Simon Peter climbed back into the boat and dragged the net ashore. It was full of large fish, 153, but even with so many the net was not torn. Jesus said to them, "Come and have breakfast." None of the disciples dared ask him, "Who are you?" They knew it was the Lord. Jesus came, took the bread and gave it to them, and did the same with the fish. This was now the third time Jesus appeared to his disciples after he was raised from the dead. When they had finished eating, Jesus said to Simon Peter, "Simon son of John, do you love me more than these?" "Yes, Lord," he said, "you know that I love you." Jesus said, "Feed my lambs." Again Jesus said, "Simon son of John, do you love me?" He answered, "Yes, Lord, you know that I love you." Jesus said, "Take care of my sheep." The third time he said to him, "Simon son of John, do you love me?" Peter was hurt because Jesus asked him the third time, "Do you love me?" He said, "Lord, you know all things; you know that I love you." Jesus said, "Feed my sheep. Very truly I tell you, when you were younger you dressed yourself and went where you wanted; but when you are old you will stretch out your hands, and someone else will dress you and lead you where you do not want to go." Jesus said this to indicate the kind of death by which Peter would glorify God. Then he said to him, "Follow me!"" (John 21:1-19 NIV)
B.) God's love has come to move us forward! A fresh wind is coming to your life!
1.)Jesus confronts Peter where he is at! But I'm dirty, I messed up.
-Do you love me!
-Of course I do!
-Feed my sheep!
2.) Jesus whispers, I Love you, get up and try again! Jesus has a new covenant with us that transforms us into a new creation.  A new heart, and one that has his law wrote on your heart, and given the Holy Spirit to live in you, and help you walk out Gods statues.
 III. Jesus says Follow me. (Close).
"Those who accepted his message were baptized, and about three thousand were added to their number that day." (Acts 2:41 NIV)
A.) Peter trusted God and at Pentecost, led thousands to believe in Jesus as their lord and savior.
1.) God will use you if you love him!
B.) The New covenant: Jesus' blood not only forgives us of sin, but clears the conscious! You no longer need to be bound by guilt! Where the spirit of the lord is there is freedom!
"The blood of goats and bulls and the ashes of a heifer sprinkled on those who are ceremonially unclean sanctify them so that they are outwardly clean. How much more, then, will the blood of Christ, who through the eternal Spirit offered himself unblemished to God, cleanse our consciences from acts that lead to death, so that we may serve the living God!"
(Hebrews 9:13-14 NIV)
1.) Let's put the enemy on notice! I'm taking back my mind, I'm taking back my marriage, I'm taking back my future, I'm taking back my talents! I'm taking back my calling! In Jesus name! I will trust you God, I believe that you died for me, I will follow you! I will lay my life down! Let's move forward God!
2.) What's ahead of me is greater than what's behind me!
CONCLUSION:
What is the Holy Spirit saying to you through this message?