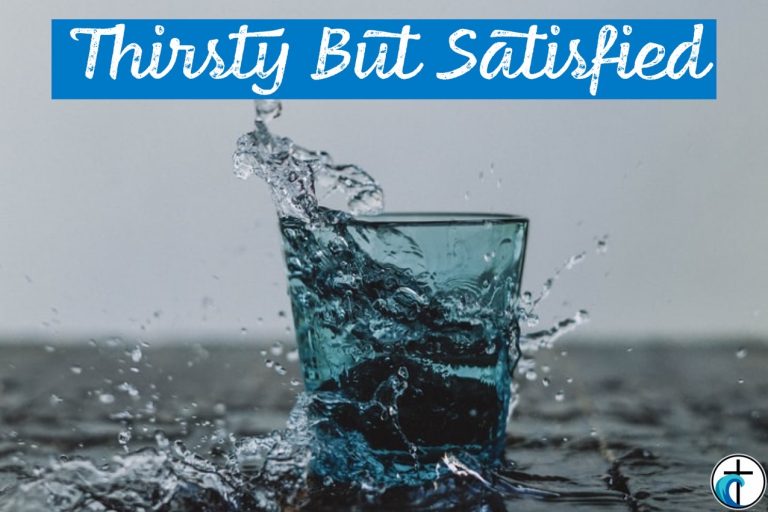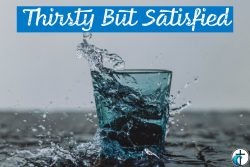 May 7, 2023
OPENING SCRIPTURE:
God blesses those who hunger and THIRST for justice, for they will BE SATISFIED. (Matthew 5:6 NLT)
• Throughout the Bible, Jesus talks about thirst. Thirst for the truth. Thirst for righteousness. Thirst for justice.
And Jesus said to them, "I am the bread of life. He who comes to Me shall never hunger, and he who believes in Me shall NEVER THIRST. (John 6:35 NKJ)
• Not our natural thirst for water but our spiritual thirst for God
For I WILL POUR OUT WATER TO QUENCH YOUR THIRST and to IRRIGATE YOUR PARCHED FIELDS. And I will POUR OUT MY SPIRIT on your descendants, and MY BLESSING on your children. They will THRIVE LIKE WATERED GRASS, LIKE WILLOWS ON A RIVERBANK. (Isaiah 44:3-4 NLT)
In John Chapter 4, Jesus made a 67-mile journey to satisfy someone's thirst.
So he (Jesus) left Judea and returned to Galilee. HE HAD TO GO THROUGH SAMARIA ON THE WAY.  Eventually he came to the Samaritan village of Sychar, near the field that Jacob gave to his son Joseph.  Jacob's well was there; and Jesus, tired from the long walk, sat wearily beside the well about noontime. Soon a Samaritan woman came to draw water, and Jesus said to her, "Please give me a drink." (John 4:3-7 NLT)
Biblical History: 722 BC, Assyria invaded Israel, and through inter-racial marriage, this new group of people called the Samaritans were created. Over the years there was a great hatred between the two nations. The Samaritans accepted only the five books of Moses and rejected the writings of the prophets and all the Jewish traditions. The Samaritans worshipped on a mountain and not in Jerusalem with other Jews. Jews and Samaritans did not mingle.
• "He had to go through Samaria" – Jesus had an obligation to go through Samaria.
The very people that we are trying to avoid in life, are those that Jesus is trying to reach!
"If you only knew the gift God has for you and who you are speaking to, you would ask me, and I WOULD GIVE YOU LIVING WATER." (John 4:10 NLT)
• Jesus was saying: I am the well of life!
1. ARE YOU THIRSTY? LET GO OF YOUR DIFFERENCES
• Jesus knew about differences between Jews and Samaritans, but He found something that they can all agree on: THIRST!
"Anyone who drinks this water will soon become thirsty again. 14 But those who drink the water I give WILL NEVER BE THIRSTY AGAIN. IT BECOMES A FRESH, BUBBLING SPRING WITHIN THEM, GIVING THEM ETERNAL LIFE." (John 4:13,14 NLT)
• Jesus was saying to her: Would you let go of your differences and drink from the well?
2. ARE YOU THIRSTY? LET GO OF YOUR PAST
• She was marked by her own people to be immoral.
"Go and get your husband," and to which she replied "I have no husband"; and Jesus responded: "You are right!"
• She was married 5 times and the 6th man was not her husband.
THE SPIRIT OF TRUTH BRINGS OUT THE PAST BUT MOST IMPORTANTLY THE SPIRIT OF TRUTH SETS YOU FREE FROM THE PAST
• Jesus was not condoning her past but rather was challenging her to repent and let go of the past.
3. ARE YOU THIRSTY? LET GO OF OUR PLACE OF COMFORT
Many of us are thirsty for God but our place of comfort stops us from going deeper.
Jesus replied, "Believe me, dear woman, the time is coming when it will no longer matter whether you worship the Father on this mountain or in Jerusalem.
But the time is coming—indeed it's here now—when true worshipers will worship the Father in spirit and in truth. The Father is looking for those who will worship him that way. For God is Spirit, so those who worship him must worship in spirit and in truth."
(John 4:21, 23, 24 NLT)
• The word truth here comes from the Greek word: Aletheia which denotes truth that must be drawn from a deep of your soul… Like from the well of life!
• AS LONG AS YOU ARE DRAWING FROM THE WELL, YOU WILL REMAIN THIRSTY FOR GOD!
"The woman left her water jar beside the well and ran back to the village, telling everyone, 29 "Come and see a man who told me everything I ever did!" (John 4:28-29 NLT)
• She could not keep her thirst for truth to herself. She had to share it with others.
CONCLUSION: What is the Holy Spirit speaking to you through this message?